Shopping for new furniture can be difficult, especially with all the choices that are available in markets these days. If you are specifically looking for the best sofa brands in India, this blog is here to help.
In our opinion, Wakefit is one of the best sofa brands in India. We like Wakefit sofas because they are stylish and comfortable. They also come with a number of features that make them a good value for the money. Additionally, Wakefit sofas typically come with a warranty that covers manufacturing defects, which is another reason why they are considered a good value.
Adding new sofas to your decor can help you jazz up your living space. Depending on your personal aesthetic tastes, you can choose a variety of sofa styles that fit your home best. Additionally you must keep in mind the decor of your living room before choosing a good sofa as it must match the aesthetic of your home.
There are numerous furniture brands in India, offering some of the best sofas to customers. How do you pick the best sofa for your home? You read our informative blog, of course! Below is a list of the top 10 sofa brands in India to help narrow your search and pick the best piece of sitting furniture for your home. Each brand has its own style and pros and cons, which have been discussed thoroughly below.
List of top 10 best sofa brands in India
When it comes to finding the perfect sofa for your home, it can be tough to know where to start. With so many different brands and styles available, how can you be sure you're making the right choice? In this blog post, we'll take a look at some of the best sofa brands in India, and we'll help you decide which one is right for you. Sofa shopping can be a daunting task, but with our help, it can be easy and fun! So read on to find out more.
| | | |
| --- | --- | --- |
| S. No. | Best Sofa Brands In India | Price |
| 1. | Star Crafts | Starting at Rs. 13,999 |
| 2. | Solimo | Starting at Rs. 10,749 |
| 3. | Home Centre | Starting at Rs. 15,000 |
| 4. | Wakefit | Starting at Rs. 7,358 |
| 5. | Wooden Twist | Starting at Rs. 13,999 |
| 6. | Fabindia | Starting at Rs. 18,895 |
| 7. | Royal Oak | Starting at Rs. 18,950 |
| 8. | Adorn India | Starting at Rs. 5,499 |
| 9. | Furny | Starting at Rs. 5,498 |
| 10. | HomeTown | Starting at Rs. 12,995 |
📌Also Read: Best Furniture Brands In India
Best Sofa Brands In India
1. Star Crafts
If you are looking for beautiful sofas that provide optimal lumber support, Star Craft sofas are an excellent pick. Star Craft sofas are resistant to wear as they utilize premium fabric that remains good as new for a long time. The best part? They are some of the most affordable sofas in India.
✓ Pros
Long-term protection from wear
Excellent customer service
No assembly required
Many choices to pick from
2. Solimo
Solimo offers sofas in many materials and designs. Longevity is never an issue with these sofas as they are fitted with fabric that is resistant to wear and fading of colour. The materials used are also free of any toxic chemicals that may cause harm to users. They also offer 3 years warranty on any manufacturing defects. All these excellent offerings make this brand worthy of the best sofa brands in India list.
✓ Pros
Lightweight
Durable
High quality material
3. Home Centre
Home Centre is a brand that is well known across metro cities in India. They make beautiful furniture fitting every aesthetic. This includes some of the best sofas for home use. The material used is of high quality making these sofas extremely durable. Their wide range of designs mean you can easily find your dream sofa in Home Centre's catalogue.
✓ Pros
Durable
1 year warranty on products
Many designs and colours available
❌ Cons
Requires assembly by carpenter
Expensive
4. Wakefit
If you're looking for a sofa that specifically aims to keep your back comfortable, Wakefit is the brand for you. These sofas use high-density foam which is resistent to bugs like termites, making your sofa last for many, many years. Additionally, materials used are of high quality, including neem wood which is sturdy and bug resistant.
✓ Pros
Doesn't need to be assembled
3 Years Warranty
Durable
5. Wooden Twist
Wooden Twist has some of the quirkiest sofas in this list. There are many antique and modern designs that will surely light up your living room unlike anything else. If you want a statement piece, get a sofa from Wooden Twist! The cherry on top is the fact that these sofas use excellent quality materials that ensure they are durable. Furthermore, these sofas are hand carved, which gives them a personal touch. These sofas have an amalgamation of features making Wooden Twist one of the best sofa brands in India.
✓ Pros
One of a kind designs
Wide range to select from
High quality woodwork
6. Fabindia
Fabindia is a brand most shopping lovers have heard off. They are a versatile brand that combine Indian ethnic designs with modern designs to give excellent end products. The same is applicable to their sofas, which are some of the best in the markets. Made from high quality material, these sofas are comfortable and chic at the same time. An absolutely killer combination in our opinion!
✓ Pros
Affordable
High-quality products
Unique design
❌ Cons
Carpenter assembly is required
7. Royal Oak
Royal Oak prides itself on sturdy, long lasting sofas that offer a combination of comfort and style to users. Premium fabric and wood are used to make these reliable, long lasting sofas. They follow classic designs and if you are looking to buy simple yet elegant sofas, this is one of the best sofa brands out there!
✓ Pros
Minimalist design
Excellent fabric and wood used
Long-lasting
Affordable
8. Adorn India
Premium finish at affordable rates? Yes please! Adorn India's sofas come in a wide range of colours for customers to pick their favourite based on their aesthetic preferences. There are also multiple types of sofas available, from one seaters to five seaters. Adorn India is a reliable sofa brand which is reflected in their great customer reviews.
✓ Pros
Pocket-friendly
Great customer service
1 Year Warranty for foam and frame
❌ Cons
Requires assembly at home
9. Furny
Some of the best features of Furny sofas include their durable materials and the wide range of colours and sizes they are available in. Whether you want a small, one seater or an entire sofa set, Furny offer high quality furniture to their customers. A great added benefit is that their sofas are extremely easy to clean, so you won't have to worry about spilling anything on your sofa again!
✓ Pros
Soft foam cushions
Durable wooden body
Can be cleaned easily
10. HomeTown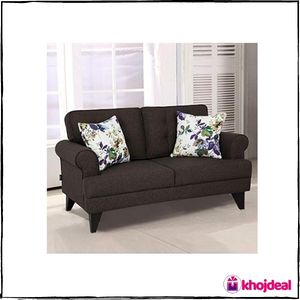 If you want to add a contemporary, elegant sofa to jazz up your living room, HomeTown's versatile designs are for you. High quality, durable wood is combined with comfortable foam, keeping your back satisfied for a long time, which is what makes them one of the best sofa brands in India. Best of all, any assembly costs are covered by the company itself so you don't have to worry about how you will climb across that hill!
✓ Pros
Lightweight
Trusted customer service
Wide variety in colour and size
📌Also Read: Best Bean Bag Brands in India
How to pick out the right sofa for you?
Every shopping experience should be a fruitful and satisfying. If you are looking to buy a sofa, you will likely want to get a sofa from the best brands in India. The following features are necessary for you to have the optimal buying experience:
Check for the right material – Sofas come in various materials and make. The foam of the sofa can be of varying kinds, such as orthopedic, memory foam, etc. Also, a variety of wood can be used to make the sofa, such as teak or neem. Depending on your preferences and needs, you can choose the right material and make for the sofa.
Size and shape – The most important thing you must consider when getting any new furniture is the dimension of the furniture. Check the measurements of the sofas and compare them to the measurements of your room. Also, consider the shape of the sofa, as it must fit the shape of the room along with any other furniture in the room.
Keep comfort in mind – Like any other furniture that you need to sit in, the fit and comfort of a sofa must be suited to your needs. Most companies explain what aspect of comfort they are focused on which can help you decide whether the sofa is right for you or not.
Keep the room decor in mind – If aesthetics and style are important to you, you will need to consider how your sofa will look compared to the aesthetic of the room.
Test the Sturdiness – Test the arms and legs of the sofa to ensure that it is sturdy. Also, ensure that the fitting of each limb is accurate.
Keep your budget in mind – Like any other shopping spree, you will need to take your budget into account when buying a good sofa for your home.
While looking for the right sofa for you, remember that not only must it be from one of the best sofa brands in India, but also should be the right match for you personally.
Frequently Asked Questions (FAQs)
1. Are leather sofas more durable than fabric sofas?
How long your sofas last relies entirely on the make and care of the sofa. If you look after your sofa well, it will definitely be good as new for a long time. In general terms though, leather sofas do last longer than fabric sofas.
2. Which sofa is best for living room?
We recommend basing your choice of sofa for your living room on how you have decorated the rest of the room. Depending on that, different colours and designs may be best suited for the room.
3. What is the best sofa brand in India?
Refer to the blog above to find out the top ten sofa brands in the country. In general, you can look at sofas by Royal Oak, Fabindia and Wakefit as they offer durable and comfortable sofa options for customers.
Conclusion
Sofas, or furniture in general can be confusing to buy, especially if you are a first-time buyer. However, you do not need to fret. If you carry out some basic research you will be able to decide which features of a sofa are most important to you and accordingly, you can pick the best brand for your home.
Alternatively, use this blog as a good starting point to find out about the best sofa brands in India and successfully buy a good piece of furniture for yourself and your loved ones to enjoy. Happy shopping!