Chairs are an essential part of everyday life, which is why it is understandable that most of us look for the best chair brands in India whenever people are updating their furniture or purchasing new furniture. It is a common misconception that sitting in a chair equates to being at ease, but this is not always the case. It is, therefore, necessary to research and invest in the right chair for yourself. Ergonomic chairs feature particular systems and designs that aim to provide comfort. As a result, these chairs provide a secure assurance of comfort that helps us to maintain a comfortable posture.
Many chairs are built of high-quality soft and smooth materials to avoid putting undue strain on sensitive areas like the lower back. As a result, you can adopt proper postures to minimize excessive back pain, and chairs that are ideal for those with spinal difficulties can be used. To help you with your chair shopping spree, we have put together the top 10 best chair brands in India, a buying guide for chairs, and a list of some of the types of chairs you can choose from.
Best Chair Brands in India – List
📌 Handpicked related articles:

– Best dining chairs in India
– Best folding chairs in India
– Best office chairs in India
– Best furniture brands in India
Best Chair Brands in India – Reviews
1. The Sleep Company
The Sleep Company is a trusted brand that offers a range of chairs that cater to different needs. Their chairs are designed to provide superior comfort, making them perfect for long hours of sitting, whether you're working from home or simply relaxing.
One of their most popular offerings is the ergonomic office chair, which is designed to provide optimal support for your back and neck. With adjustable height and tilt features, you can easily customize the chair to fit your unique needs. The chair also comes with a 1 to 3 year warranty, giving you peace of mind that you're making a wise investment.
One unique feature of The Sleep Company's chairs is that they come with SmartGRID Technology, providing extra comfort and support. The SmartGRID Technology adapts to your body shape, providing targeted support and enhancing comfort for your back and hips. This feature promotes pain-free work and an optimal working experience.
✔Pros
Ergonomic design for optimal comfort
1-year warranty offered
Memory foam seat cushion available for added comfort
Durable and weather-resistant materials for outdoor chairs
Wide variety of styles and colors
❌Cons
Not suitable for heavy-duty use
2. AmazonBasics
AmazonBasics is an excellent brand as they offer excellent wheely chairs for home offices, basic kitchen/bar chairs and comfortable patio chairs. The office chairs provided by the brand are ergonimically sound so you can sit comfortably for long periods of time while working. They also give users the ability to adjust height of the chair according to their comfort. The kitchen/bar chairs are height adjustable as well, while some of the patio chairs offered are foldable for easy storage.
The brand also has comfortable cushions to go with their chairs so you can add extra comfort to all your sitting arrangements. You can choose browse through the various types of chairs available and pick the right one for you.
✔Pros
Can hold over 100kg of weight
Ergonomic design where relevant
1 year warranty offered
Comfortable
On the affordable side
❌Cons
Not enough variety in types and styles of chairs offered.
3. Ikea
Ikea is not only one of the best chair brands in India, but also one of the best furniture brands across the world for affordable, reliable furniture. Ikea provides a variety of chairs, in many different shapes and sizes. These include chairs for adults and young children, chairs made of a variety of material, for different aesthetics and uses. This brand is ideal for bachelors or young people who have recently moved out of their family homes and want to buy affordable furniture for their new home.
The chairs are generally lightweight, easy to store and easy-to-assemble after purchase.
✔Pros
Variety of types to choose from
Chair for adults and children available
Sleek, modern designs
Easy to store and carry around
Affordable
4. ANMOL
ANMOL is another affordable brand on this list. It offers sturdy, indoor, outdoor, durable, previously assembled, multifunctional chairs. These chairs can hold up to 200kg, and are immune to most wear and tear. They are elegant and ergonomically sound, so you can sit on them comfortably for long periods of time. The pre-assembly feature is one of the best pluses of the brand, as it eliminates the need for extra time and effort after purchase.
The brand offers a transparent customer service as you can easily contact them via WhatsApp. Their chairs are excellent for hosting parties or gatherings are they are affordable, lightweight and can be stored easily.
✔Pros
Affordable
Ergonomically sound
Sturdy, long lasting
Excellent customer service
3 year warranty offered
❌Cons
Lack of versatility of design
5. Aafiya Handicrafts
If you are into a retro look, Aafiya Handicrafts is one of the best chair brands in India to shop from. These chairs have an iron frame that is made rust resistant thanks to their all-weather PE rattan. These chairs can be placed indoors or outdoors, are wide and deep to ensure that one can sit comfortably. The sitting plank is made of sturdy mango wood. The chair is lightweight but can hold high weights. Additionally their designs offer an ease of cleaning to users.
On top of the above-mentioned features, these chairs are ergonomically designed to ensure good health for your back by supporting the right posture. The armrests are at the right heigh to prevent any strain in your muscles.
✔Pros
Beautiful, handmade chairs
Iron frame and mango wood seat to ensure durability
Long-lasting
Lightweight, ensuring easy moving and storage
Wide chairs for excellent accomodation
❌Cons
On the expensive side
Very specific design; lack of versatality
6. CANE CRAFTS
The brand makes excellent designer, bamboo wood chairs to cater to your various needs. These chairs can be used indoors and outdoors and come with a cushion for the sitting area to keep you comfortable. They are pre-assembled and made ergonomically safe with a large backrest and suitably high arms, so you can sit comfortably. The chairs are lightweight and can be cleaned simply with a dry cloth. Avoid placing these chairs anywhere near water to increase longevity.
Our favourite thing about this brand is the aesthetically pleasing designs that can be styled in many different ways.
✔Pros
10 days replacement
Excellent customer service
Lightweight
Stylish designs
Sturdy
❌Cons
Can face wear and tear due to any exposure to water
7. Nilkamal
Nilkamal's variety in designs makes it one of the best chair brands in India. This brand is one of the most affordable brands on out list. It offers various designs, shapes and sizes based on the user's needs. There are also children's chairs available. There are some colours to choose from, provide a 1 year warranty, are pre-assembled and made from polypropylene. In addition to being lightweight, these chairs can hold up to 200kg of weight.
You can utilize these chairs for indoor and outdoor use, are sturdy and resistant to wear and tear caused by changes in the weather.
✔Pros
Durable
Lightweight
Can hold high weights
Pre-assembled
Affordable
❌Cons
Only material to choose from is plastic
8. Green Soul
Green soul is a dynamic brand which offers several kinds of chairs that can be used for multiple functions. The brand is especially great for gaming, and they are designed ergonomically so you can comfortably sit for hours and play for as long as you want without hurting your posture. There is a lumbar pillow, comfortable foam seat, and a neck/head pillow. You can choose from a variet of colours as per your preference. The brand provides a three year warranty and offers excellent customer service.
Although the chairs are directed at gaming, you can invest in them for your home office or for when you are sitting for a long time in one place as gaming chairs provide the best body support thanks to their ergonomic design.
✔Pros
Wheely chairs that can be moved easily
Can choose from a variety of designs and colours
Offer excellent support from your head to your legs
3 year warranty offered
❌Cons
On the expensive side
Chairs are specific to gaming or office use
9. Savya Home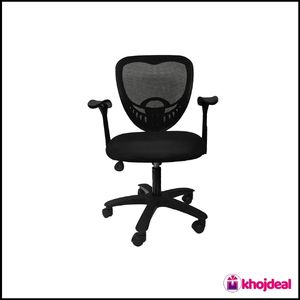 Savya Home is another excellent chair brand. What makes it one of the best chair brands in India is the combination of comfort, luxury and affordability the brand offers. Compared to other office/gaming chair brands, Savya Home offers high quality chairs at a much more affordable price. The chairs are ergonomically built to ensure comfort. They are sturdy and have extra large seats in general so there is ample place for you to sit.
There are some great features including great lumbar and head support along with a foam seat and great tilt feature, which means you can relax in this chair as well as play/work whenever needed.
✔Pros
Affordable
High quality gaming/office chairs
Sturdy yet lightweight
Foam seat and ergonomic design for comfort
❌Cons
Types of chairs restricted to gaming and office chairs.
10. Casa Copenhagen
Casa Copenhagen offers chairs with adjustable functions, excellent lumbar support and soft mesh. The designs are fashionable and you can choose the right chair for you depending on your needs. They can handle heavy weights, while offering ergonomic support and extremely comfortable seating. Some chairs also offer neck and support along with adjustable arms. The seats are wide, making the chairs accomodating.
The chairs require at home assembly, but this can be achieved in under fifteen minutes thanks to the helpful manual provided.
✔Pros
Medium range price
Lightweight and sturdy
Sleek, aesthetic designs
Many designs to choose from
Ergonomic design for comfort
---
Best Chair Brands in India – Types of Chairs
When did chairs become popular?
The common use of the chair as a piece of furniture within the general reach of the people began approximately 1500, however, the exact start and finish dates are unknown at this time. Is that there are certain oddities about the origins of chair use, such as the fact that in Egypt, chairs were exclusively used for maidens to sit in, or that in Rome, they were used for priests in temples and royalty or ancestry families. It's the same in Greece. Furthermore, in China, chairs were not used by the general public; they were only employed as a piece of furniture in privileged locations.
To help you find the right chair from the best chair brands in India, we have compiled a list of types of chairs you can choose from for your home.
Types of Chairs
Office Chairs
1. Fixed Chairs
Fixed-style chairs are, without a doubt, the most traditional of the bunch. It's a fixed chair with a backrest that gets its name from the fact that it's the standard interrogation chair in movies. These types of chairs are not recommended for workers since they lack movement and are not height or backrest adjustable. They are, nonetheless, a good choice for reception areas. They may be able to assist you in improving the layout of your office.
2. Operative Chairs
These come in a wide range of fabrics, colors, and shapes. This is a traditional option that is progressively losing way to ergonomic chairs. They are height-adjustable chairs that come in a variety of styles.
3. Permanent Contact Chairs
The backrest of these chairs is what gives them their name. This is a sort of chair in which the height, depth, and angle of inclination of the chair can all be adjusted. As a result, it is always in contact with the back. These chairs are designed to help you improve your back posture. As a result, they are recommended for young people who need to improve their posture and develop excellent habits, in addition to office and professional use.
4. Ergonomic Chairs
Ergonomic chairs have all of the above qualities, plus a few more that make them excellent. The first is that they are height-adjustable, making them suitable for everybody. Naturally, the depth of their backrest can be adjusted as well. They also offer a rocking position where you may regulate the tension between your back and the backrest. It also includes an automatic adjustment synchronization system. They're also made of breathable materials and are quite long-lasting.
Dining Chairs
The following are defining characteristics of different dining chairs. You can choose which one you like based on personal preference and home aesthetic –
1. The Material
Both the aesthetic and functional aspects of the material must be considered while selecting it. On an aesthetic level, the aim is to choose them in the style that best suits us and the house, because they will imprint the character of the dining room or kitchen due to their strong visual presence (due to repetition). In this regard, chairs made of light wood or plastic materials are particularly typical of the Nordic design, while metal and leather chairs are suitable for the industrial style, and wicker and rattan chairs are ideal for a rustic-chic style or outdoor dining rooms. They're all casual and light, and they'll work in almost any home.
Upholstered chairs, on the other hand, are more typical of both the classic (especially when they have trim or tacks) and contemporary styles (in plain unprinted textiles), and because of their padding and delicate finishes, they are more ideal for sophisticated dining rooms or special events.
On a functional level, the most comfortable chairs are the upholstered kind, owing to the padding that they have on both the seat and the back, which allows us to cushion our weight. In this regard, the wooden or metal ones might become a little hard after a while, while the wicker ones, especially in the summer when we wear shorts or a miniskirt, can leave a mark on the back of the legs.
In most cases, a biscuit cushion or other remedies such as sheepskin are used to alleviate this condition. So that the intended style is not sacrificed, usefulness and aesthetics are blended in this way.
2. The Backrest
The height of the backrest, on a functional level, is something that influences a lot when sitting at the table. A low backrest can be uncomfortable for some people (as it is with couches), so they prefer a high backrest that gathers our backs at mealtimes or leans back, making them more comfortable.
Low-back dining chairs, on the other hand, give the impression of more space. On an aesthetic level, high backrests are more associated with classic styles and distinguished settings, whilst low backrests can be used in both formal and informal settings.
3. Arms
What about the arms, for example? The decision to have or not have arms on a dining chair is not entirely ornamental. The form and height of the table, the chair's height, and the amount of prominence we want to give it will all affect whether we choose one or the other. Due to their lightweight, chairs without arms are more suited for everyday lunches and dinners. Furthermore, they do not take up much space when we are not eating, as they fit neatly beneath the table and can be moved closer to the edge.
On an aesthetic level, whether they have arms or not is a question of personal preference, as both alternatives have styles to suit all tastes. True, chairs with arms lend a more serious or sophisticated look to a dining table, but this depends on the chair style chosen. In dining rooms with long tables, placing chairs without arms on the front and the same model with arms on the ends, as a chair, usually works well.
Design Chairs
These chairs are there to serve a more aesthetic purpose. Their focus is both on offering comfort and making a statement. Below are some examples-
1. Lounge Chair & Ottoman
Charles and Ray Eames reimagined the English club chair in 1956, making it lighter, sleeker, and more modern than its predecessors. It combines a lounge chair with a leg rest in the form of an ottoman.
2. The Tolix Chair
The Tolix chair, developed by Xavier Pauchard in 1924, is one of the requirements for all enthusiasts of retro-industrial decoration.
This stackable galvanized steel chair has become one of the most popular decor items in history.
3. The Egg Chair
The Egg chair, designed by Danish architect Arne Jacobsen in 1958, is another futuristic chair that has earned a position in this list for its iconic design. He intended to build a chair that combined the seat, backrest, and armrests into a single piece, resulting in this recognizable ovoid chair.
4. The Swan Chair
The Swan Chair, developed by Arne Jacobsen in 1958, is another design landmark from the Danish architect's mind. This chair, which was inspired by the figure of a swan and has a shape similar to the Egg chair, was created to decorate the lobby and lounge area of the SAS Royal Hotel in Copenhagen and went on to become one of the best-selling chair models.
5. The Panton Chair
The Panton chair, designed by Verner Panton in 1967 and made by Vitra, has to be included in this list of iconic chairs since it is a masterpiece of Danish furniture design. It was the first one-piece plastic chair, and its anthropomorphic and slightly flexible construction has made it an iconic design that combines design and comfort.
Gaming Chairs
1. Puff Chair
They are a low-cost and enjoyable option. You can't roll or spin in this type of gaming chair, but it's better than sitting on the floor for hours. Having a couple of these at home can ensure you have a great time, especially if you play with friends at home. Both your back and yourself will be much more comfortable leaning against the bean bag than against the floor or the wall, which can be very uncomfortable, especially for hours.
2. Wheelbase for PC

In terms of movement and comfort, wheelbase style chairs are the best. The manner of construction of these chairs allows you to move and turn. You may even lay back and relax with certain models. This is a broad category that includes everything from inexpensive office chairs to high-end gaming chairs. This category includes a wide range of models and pricing. They are probably the most well-known and visible chairs. You might have one at home and not realise it's a type of wheelbase chair, but they're also known as PC-type chairs, or chairs that last a lifetime. They've gotten better over time, and they're now more resistant and well-padded.
Before you purchase your chair, remember to weigh the options against what you use intend to derive from it. You can go through the various offerings made by the best chair brands in India, so you can get the right chair for you. For a buying guide for chairs, continue reading.
---
Best Chair Brands in India – Buying Guide
Below you will find the components of chairs you must keep in mind before making a purchase. We recommend considering each one of these so you can make the right pick from the best chair brands in India that we have reviewed above.
1. Dimensions of the chair
The ideal situation is to be able to sit in the chair and test all of its functions to see if it is comfortable for you. However, this is not always possible, especially if you are purchasing it online, so knowing the chair's size is vital to determining whether or not you will be comfortable in it. These specifications should be listed in the store where you want to purchase it, or at the very least on the manufacturer's website.
Some websites, such as the one seen in the image above, even feature a size guide where you can enter your height and weight and they will recommend the chairs from their catalog that will best suit you. However, if this is not the case (and even if it is, it is usually suggested), you must determine the chair's measurements.
2. Height from the floor to the armrests
The height of your table must be taken into consideration. That the armrest's minimum height is less than the height of your table, allowing you to push it closer while keeping them under the table. We advise you to follow this advice because if the chair does not fit and you are unable to glue it to the table, it will be extremely inconvenient when not in use. You must also ensure that the maximum height is at least equal to the height of the table so that the armrests can be placed at the same height as the table when in use. These, of course, have a changeable height so you may adjust it yourself.
3. Seat height and width
Make sure the chair's height is not greater than the distance between the sole of your foot and the knee, otherwise you won't be able to reach the ground properly. Make sure the width is larger than the length of your pelvis; otherwise, the sides will press you and you will be uncomfortable.
4. Backrest height
Make sure the backrest isn't too low; otherwise, you won't be able to support your head when you lean back. Check your height from the waist to the neck, and make sure your back height is higher.
5. Supported weight
You may be a corpulent person with an above-average weight for several reasons, and it should be noted that not all of them sustain the same weight. There are also those made for children and adolescents, and their weight-bearing capacity is lower than typical, so make sure the chair can sustain your weight. If this is the case, we suggest avoiding those with a plastic foundation.
6. Ergonomic Design
There are other features other than the height that you must be able to control. These include the backrest's rocking and tilting, allowing you to adjust it to your position while sitting. It is not required for the chair to tilt 180 degrees, but it must have some inclination for you to feel more comfortable and, why not so that you can lie back and relax while watching a movie.
---
Best Chair Brands in India – FAQs
What is the best chair for sitting long hours in office?
Good posture is an important component of our quality of life. Poor posture can result in discomfort, pain, exhaustion, or fatigue, as well as musculoskeletal problems (such as carpal tunnel syndrome and cervical hernias), sleep disturbances, and vascular system disturbances, among other things.
Height: This should be adjusted so that the feet are flat on the ground and at a 90-degree angle at the hip, knee, and ankle, allowing for optimal alignment with the spine and comfort.
Depth: The concept is that it relieves excessive pressure on the posterior part of the knee joint, which can cause soreness or other symptoms in the lower limbs.
Back Support: Pay attention to the backrest, and the most important thing to remember is that it helps you to keep your normal physiological curvatures while seated.
Cervical Support: Some chairs include built-in and adjustable cervical support, and if they don't, these accessories can be added.
Adjustable Arms: To work in a comfortable position, the arms must be aligned at the height of the table. For the same reason, the forearm support must allow the elbows to be angled between 90 and 105 degrees and the hands not to remain in the air.
Basal Support: To avoid accidents, the base support, whether it has wheels or not, must be wide and stable. When sitting, it can be supplemented with a footrest to relieve strain in the lower limbs.
Keeping these in mind you can choose from the variety of office chairs offered by Casa Copenhagen, Amazon Brand – Solimo, and Savya Home. For more information on the best chair brands in India , read above.
What are the best chair brands in India?
Some of the best chair brands in India include Ikea, Savya Home, Casa Copenhagen, Amazon Brand – Solimo among others. To find out in-depth reviews of chairs from these brands and to read about other great brands, go through the review section of the blog above.
Should you spend more money on expensive chairs?
The chair is the one item on which you should splurge. A good one can last up to ten years, but if you get a cheap one, it will be ruined in two years because it is what is used the most at home. Having a high-quality chair at home is essential, especially in today's world, where more and more people are working from home or gaming.
---
Best Chair Brands in India – Conclusion
Many individuals sit for half of their day, and this is not an exaggeration: at work, when driving, on the couch, while working from home, gaming, etc. Keeping this in mind, taking care of our posture and the places where we sit is more than just a matter of comfort: it's a matter of health. For this reason, it is necessary to select the best seats for your needs from an ergonomic standpoint.